Vegan-Friendly, No BS Added
We take pride in our products and process to serve the best food and drinks with each order. We do not add any unnecessary ingredients. Put your health first! You can CUSTOMIZE EACH BOWL choosing from our DAIRY- FREE BASES and up to 13 ALL NATURAL TOPPINGS. Have special instructions? No worries! There's an option to add your special requests when placing your order. At ABP, we strive in being as ECO-FRIENDLY as possible. Our spoons, bottles, and containers are all recyclable and we use biodegradable bags.
ORDER ONLINE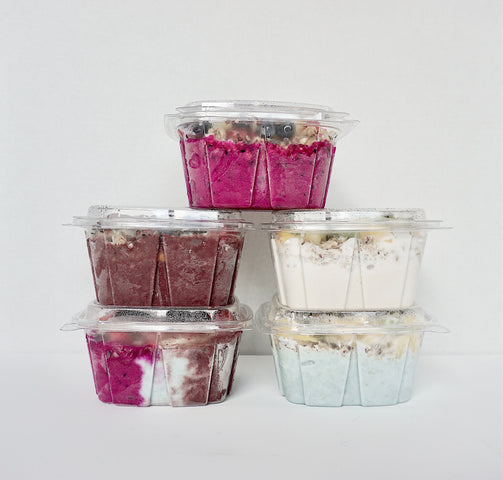 Save more with our bundles!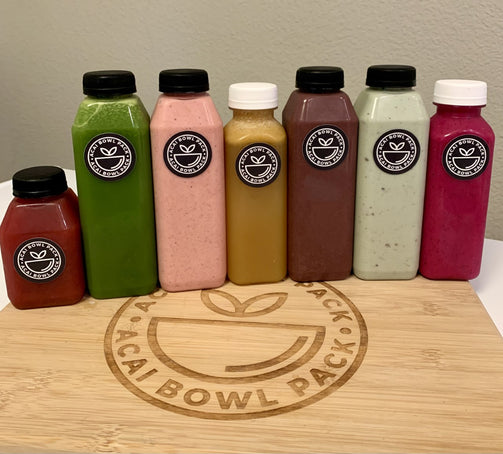 Detox Bundle
Get rid of the junk in your gut and improve your health from the inside out with our 1 Day Detox Bundle.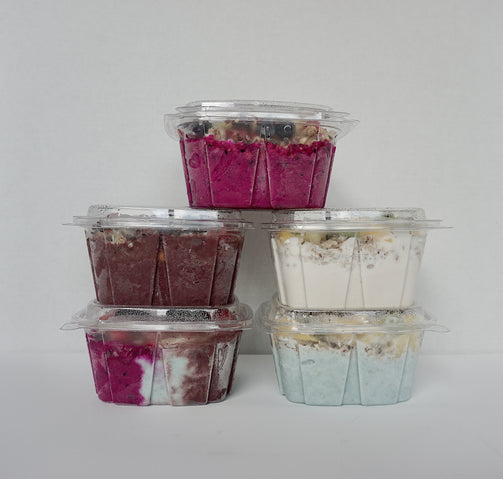 Mix and Match Preset Bowl Bundle
Choose a bundle pack with our Preset Bowls and save more! Fifth bowl is FREE!
Party Pack
Great for meetings, families, and parties. Everyone can enjoy their own custom bowl and drink with our Party Pack!
Free & Same Day Local Delivery
How does it work?
Step 1: CUSTOMIZE your dairy-free, vegan friendly bowls by selecting your base(s) and choose from a variety of all natural toppings. Don't forget to add on our refreshing drinks!
Step 2: SCHEDULE a delivery date & time
Step 3: RELAX, we got the rest!
We offer FREE SAME DAY DELIVERY as soon as 65 minutes once order is placed or you can schedule an order up to a month in advance (perfect for meal prepping). We are a food delivery business only and do not offer pick up at this time. We strive on QUALITY versus speed, each bowl is freshly HAND CRAFTED.
Delivery is currently available to the Henderson and Las Vegas Valley area. Each order arrives COLD and right to your doorstep. We deliver to your home, work, gym, pool, anywhere (within our delivery range)!
SCHEDULE AN ORDER
Eat food that is good, and good for you.
Freshly made custom bowls, green juices, protein shakes and more! Our DAIRY- FREE bases include: acai, pitaya, coconut, and mango which are great on their own, but taste even better with toppings. Choose from a variety of fresh fruits, granola, all natural peanut butter, all natural almond butter, unsweetened coconut shreds, raw cacao nibs, organic blue agave and honey.
ORDER ONLINE
Bowls

11

products

Juices

5

products

Protein Shakes

4

products

Wellness Boost

1

products

Double Shots

1

products
About Us
A family owned food delivery company founded with the purpose of providing healthy bowls, juices, and shakes right to your doorstep. We believe that everyone should eat food that is good and good for you.
In October 2019, we started selling our acai bowls at the local farmers markets in Henderson, Nevada.  During the pandemic in 2020, we shifted gears into delivery services.  Since then we have expanded our products and menu options. 
There are several bases that you can build your bowls with (Acai, Pitaya, Mango, Blue Majik, Coconut, and Ube).  Choose one or have all bases, our bowls are fun, colorful, and healthy! There are now 13 organic all natural toppings to customize each bowl.  
​Green juice, fresh orange juice, protein shakes, wellness boosts, and double shots have been added to the menu!  These drinks combine perfectly with our bowls to give you the boost and benefits your body needs. 
Follow us on our journey @acaibowlpack
Thank you for supporting a local family business.
Follow Us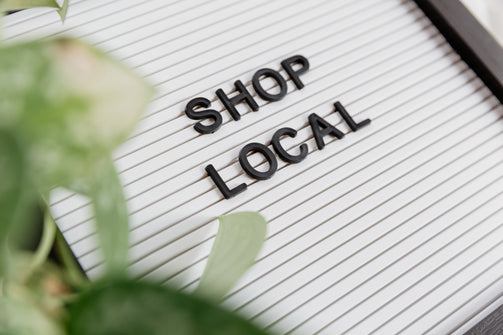 Leave us a five star review
We'd love your feedback!
Had a great experience? Please leave a 5 star review on Google and Yelp to help spread the word! Share your custom order on social media, be sure to tag us so we can repost! Thank you for supporting a local small family business. Follow us on Instagram, Facebook, TikTok, and Youtube @AcaiBowlPack